Elephant's foot yam is a slow-growing species from South Africa. It is unusual in its shrubby habit (its stems twine only towards the tips) and its bulky, largely above-ground tuber.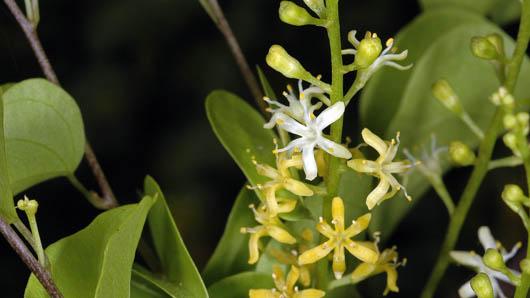 [KSP]
Kew Species Profiles
General Description

Elephant's foot yam is a slow-growing species from South Africa. It is unusual in its shrubby habit (its stems twine only towards the tips) and its bulky, largely above-ground tuber.

It is thought to be possible that Dioscorea hemicrypta may form part of the same species as D. elephantipes, and staff at Kew are currently working as part of a project to investigate this. D. hemicrypta, which also occurs in South Africa, is considered to differ from D. elephantipes in having a lobed tuber, less of which is exposed above the ground, and slightly differently shaped leaf-bases with a shallower sinus (area between the lobes of the leaf).

Species Profile

Geography and distribution

Dioscorea elephantipes is restricted to South Africa. It occurs at 150 to 1,200 metres above sea level, in thorny and succulent karroid bush, with Carissa ferox , Gymnosporia spp., Rhus spp., Aloe spp., and Crassula spp.

Description

Elephant's foot yam is a spectacular shrubby climber, which grows up to 1.5 m high. It has a huge caudiciform tuber reaching a diameter of up to 75 cm, which is mainly exposed above ground. The epidermis (skin) of the tuber is greyish-brown and hard, with numerous plates of thick cork (resembling the plates of a tortoise shell). Others have thought it resembles the skin of an elephant, hence the common name elephant's foot yam. The inner tissue is yellowish-white, opaque and brittle.

Shoots arise from growing points at the top of the tuber in October to November and persist for 10 to 14 months. Unlike many other yams, they twine only at the tips. The main stem grows up to 90 cm long and up to 15 mm in diameter at the base, and is dark brown, hairless and branched. The leaves are small, usually less than 3 cm long and wide; they are variable in shape but the base is rounded to shallowly heart-shaped. The leaves become bluish with age and fold up along the mid-vein when the plant lacks water to reduce its loss.

Like almost all yams ( Dioscorea ), D. elephantipes is dioecious; it has separate male and female plants. The male flowers are yellowish-green and are borne on an inflorescence up to 8 cm long, which is present from November to February. The female inflorescences are yellowish-green, up to 8 cm long, and have up to 15 flowers with mustard-coloured tepals. The fruit is a dry, 3-winged capsule to 2 cm long and 1.8 cm in diameter. Capsules are light brown with darker diagonal markings and ripen in April to October. Each capsule bears up to 6 light brown, apically-winged seeds.

Threats and conservation

Elephant's foot yam is under threat from over-collection for the horticultural trade and for medicinal use. It is possible that recruitment (the establishment of young plants) is a problem in some populations, but this is unproven.

Uses

Elephant's foot yam contains very high levels of saponins (a class of chemical compounds from which steroidal drugs come, which aid healing). Wild plants are often dug up by unscrupulous succulent plant collectors, or harvested for indigenous medicines.

In the past the tubers were eaten by indigenous people in South Africa, after significant processing to remove toxic compounds. Due to the large amount of effort required to obtain edible material, such tubers are nowadays normally only consumed in times of famine.

The plant may be found in some succulent plant collections, and in older literature, under its former name: Testudinaria elephantipes .

Rediscovery of a long-lost plant population

A population of elephant's foot yam was rediscovered on an expedition to the Northern Cape of South Africa by Erich van Wyk and Priscilla Burgoyne, of the National Botanical Institute (NBI), Pretoria, and Paul Smith, of theMillennium Seed Bank (MSB) project. The expedition's goal was to collect seeds for the MSB, including those from Dioscorea elephantipes , which had not been seen near Komaggas since 1954.

Using rough directions provided by Johan Hurter (NBI, Lowveld National Botanical Garden), the team spent a whole day searching for this elusive species, with no success. Finally, on the point of giving up, they asked a local shepherd, who immediately recognised the plant they were looking for, and directed them to a very healthy population. They found approximately 1,000 plants concentrated on a steep mountainside, on a scree slope. Although there were no seeds, they were able to thoroughly document the location, size and ecology of the population.

Millennium Seed Bank: Seed storage

Kew's Millennium Seed Bank Partnership aims to save plant life world wide, focusing on plants under threat and those of most use in the future. Seeds are dried, packaged and stored at a sub-zero temperature in our seed bank vault.

Description of seeds: Shaped like a flat lens about 5 mm in diameter with an apical, light-brown, membranous wing of about 10 mm long and 7 mm wide.

Number of seed collections stored in the Millennium Seed Bank: One.

Cultivation

Elephant's foot yam is grown in terracotta pots at Kew, in order to allow more air into the potting mix and to ensure better drainage (than if grown in plastic pots). The potting mix includes Seramis (clay granules) and grit, for improved drainage. The plants are watered during the growing season and the compost is allowed to dry out completely before watering again. Watering is carried out on bright, warm days to minimise the risk of rot. The plants are fed once a month (using a higher nitrogen, lower potassium feed in the summer). The plants are kept in a glasshouse zone with a minimum temperature of 12-15 °C. However, the area is kept as cool as possible to maintain control over populations of pests such as mealy bug, red spider mite and thrips. Elephant's foot yam is propagated by seed.

This species at Kew

Specimens of elephant's foot yam are grown under glass as part of Kew's Living Collection, and one of these can be seen on display in the arid zone of the Princess of Wales Conservatory.

Details and an image of a dried specimen of Dioscorea elephantipes can be seen in the online Herbarium Catalogue.

Specimens of bark from D. elephantipes are also held in the Economic Botany Collection, one of the behind-the-scenes areas of Kew.

South Africa Landscape - Kew at the British Museum

Between April and October 2010, Kew and the British Museum brought a small corner of South Africa to the heart of London. The South Africa Landscape celebrated a shared vision to strengthen cultural understanding and support biodiversity conservation across the world. Dioscorea elephantipes (elephant's foot yam) was one of the star plants featured in the Landscape.

Distribution

South Africa

Ecology

Rocky slopes in dry soils, often derived from quartzite or shales. In thorny and succulent karroid bush (an area characterised by low winter rainfall and extreme summer aridity, and dominated by dwarf, succulent shrubs).

Conservation

Considered to be threatened in the wild. Not yet evaluated according to IUCN criteria.

Hazards

Tubers can be safely eaten by humans only after significant processing to remove toxic compounds.
Native to:
Cape Provinces
English

Elephant's foot yam
Dioscorea elephantipes (L'Hér.) Engl. appears in other Kew resources:
| Date | Reference | Identified As | Barcode | Type Status |
| --- | --- | --- | --- | --- |
| | s.coll [s.n.] | | K000728040 | |
| | Brown, N.E. [s.n.], United Kingdom | | K000728041 | |
| | Wilson, A.P. [251], South Africa | | K000728048 | |
| | Hobson [8014], South Africa | | K000728056 | |
| | Bruyns, P. [9792], South Africa | | K000728059 | |
| | s.coll [s.n.] | | K000728044 | |
| | Long, F.R. [71], South Africa | | K000728058 | |
| | Wilson, A.P. [252], South Africa | | K000728047 | |
| | Cheadle, V.I. [789], South Africa | | K000728055 | |
| | Hodge, W.H. [A-159], South Africa | | K000728049 | |
| | Brown, N.E. [s.n.], United Kingdom | | K000728042 | |
| | Sánchez, J.V. [Chase35315 [?]], United Kingdom | | K001150806 | |
| | Acocks, J.P.H. [12012], South Africa | | K000728052 | |
| | Herb Forsyth, W. [s.n.] | | K000728039 | |
| | Bruyns, P. [9792], South Africa | | K000728051 | |
| | Ecklon, U.J. [788] | | K000728043 | |
| | Bayliss, R.D.A. [BS 7011], South Africa | | K000728053 | |
| | Hodge, W.H. [A-170], South Africa | | K000728057 | |
| | Pappe [s.n.], South Africa | | K000728046 | |
| | Breda, B. van [s.n.], South Africa | | K000728050 | |
| | s.coll [s.n.] | | K000728045 | |
First published in H.G.A.Engler & C.G.O.Drude, Veg. Erde 9(3; 2): 367 (1908)
Accepted by
Govaerts, R. (2000). World Checklist of Seed Plants Database in ACCESS D: 1-30141.
Govaerts, R., Wilkin, P. & Saunders, R.M.K. (2007). World Checklist of Dioscoreales. Yams and their allies: 1-65. The Board of Trustees of the Royal Botanic Gardens, Kew.
Literature
Kew Species Profiles
Archibald, E. E. A. (1967). The genus Dioscorea in the Cape Province West of East London. Journal of South African Botany 33: 1–46.
Smith, P., Burgoyne, P. & van Wyk, E. (2001). Rare plants rediscovered in the Northern Cape. Samara 1:1.
Von Teichman und Logischen, I., H. P. Van Der Schijff, H. P. & Robbertse, P. J. (1975). The genus Dioscorea L. in South Africa. Boissiera 24: 215–224.
Art and Illustrations in Digifolia
Digital Image © Board of Trustees, RBG Kew

Herbarium Catalogue Specimens
Digital Image © Board of Trustees, RBG Kew http://creativecommons.org/licenses/by/3.0/

Kew Backbone Distributions
The International Plant Names Index and World Checklist of Selected Plant Families 2021. Published on the Internet at http://www.ipni.org and http://apps.kew.org/wcsp/
© Copyright 2017 World Checklist of Selected Plant Families. http://creativecommons.org/licenses/by/3.0

Kew Names and Taxonomic Backbone
The International Plant Names Index and World Checklist of Selected Plant Families 2021. Published on the Internet at http://www.ipni.org and http://apps.kew.org/wcsp/
© Copyright 2017 International Plant Names Index and World Checklist of Selected Plant Families. http://creativecommons.org/licenses/by/3.0

Kew Science Photographs
Digital Image © Board of Trustees, RBG Kew http://creativecommons.org/licenses/by/3.0/

Kew Species Profiles
Kew Species Profiles
http://creativecommons.org/licenses/by-nc-sa/3.0